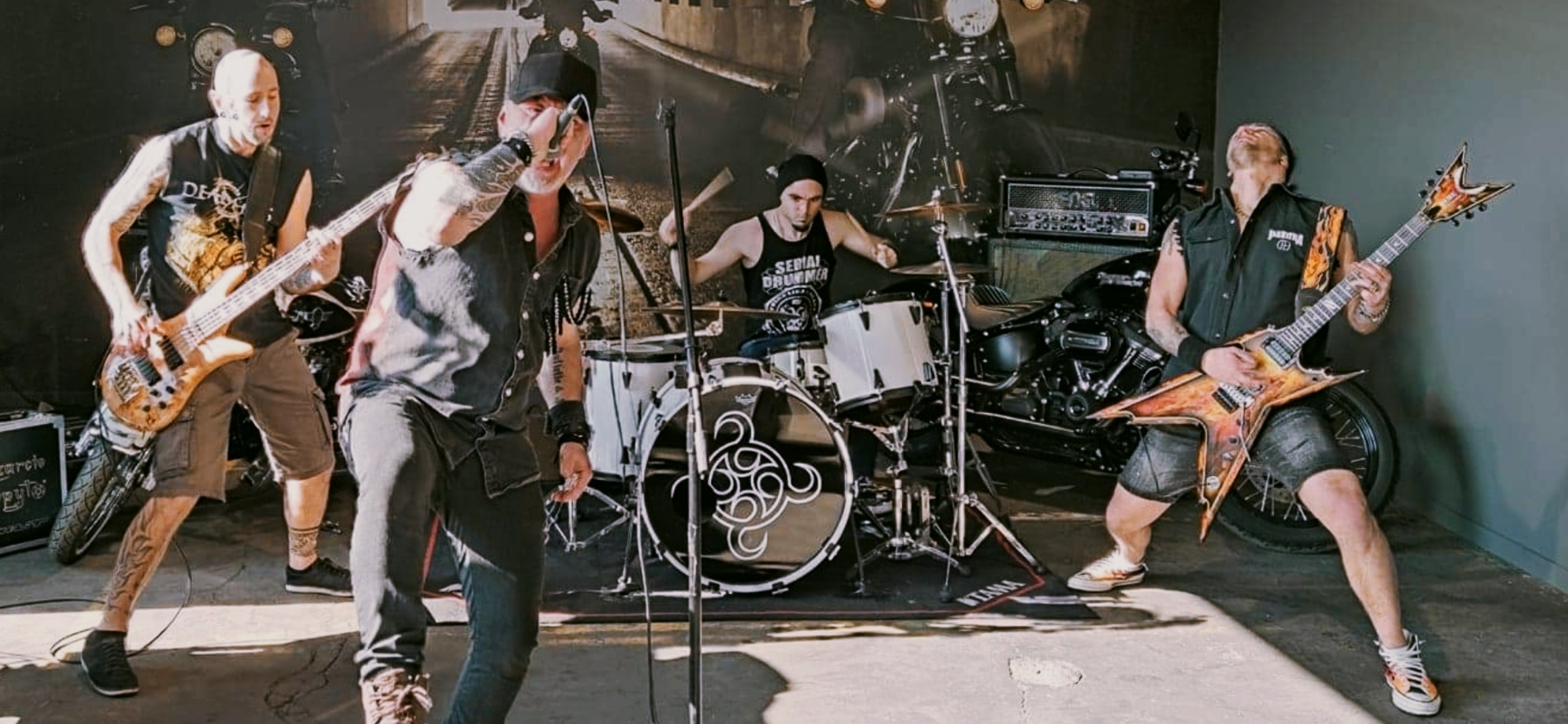 INSOMNIA biography
Insomnia was formed in 1996 in Liège by the Konikiewicz brothers, Ludo (guitar) and Nikko (drums). Their goal: a band in tune with the times, influenced by Pantera, Slayer, Grip Inc. and others, which will deliver square, powerful and efficient metal. Fred JST (vocals) and Roman Delante (bass) join the group to complete the quartet.
The group took to many stages in Wallonia and Brussels in the months that followed.
Insomnia was spotted by Phil Renote, sound engineer at the Haut-Regard studio who had worked with André Gielen (Channel Zero, Cryme, Massif, …) He offered his help for the recording of the first album. For several months, the group composed new titles while keeping the same line of conduct. Unfortunately, a few weeks before entering the studio, the group broke up.
At the end of 2015, Ludo got back in touch with the members of the group and proposed the reformation for a single date on the occasion of his 40 years as well as the 20 years of the group. For ten months, the musicians get back to work to offer an exclusive show for December 17, 2016.
The concert is a huge success. Given the enthusiasm of the people present and the pleasure of going back together on stage, Insomnia decides not to stop there. The band performed for a few dates in 2017, including the first part of the Brazilian band Nervosa in Liège (sold-out). But the main goal for the end of 2017 is the composition and recording of a brand new EP. The style remains resolutely metal, catchy and groovy at the same time.
New dates follow and Insomnia will share beautiful stages with, in particular, Komah, Signs of Algorithm, King Satan, Dagoba, Unswabbed, Kee Marcello, Exuviated and Desdemonia.
2019, Insomnia wins the semi-final of the Wacken Metal Battle and obtains the audience award in the final. Then comes the victory of the springboards of the Durbuy Rock Festival, which will allow the quartet to step onto the main stage of the famous Belgian festival.
September 2020, the line-up changes a bit and integrates its new drummer : Adrien Delgambe (Drakkar). The band are back together again, just recorded and shot their new music video « Regeneration » and are already working hard to be ready for concerts again after Covid.
Be ready for FULL POWER!