Shoot The Girl First
FR/USA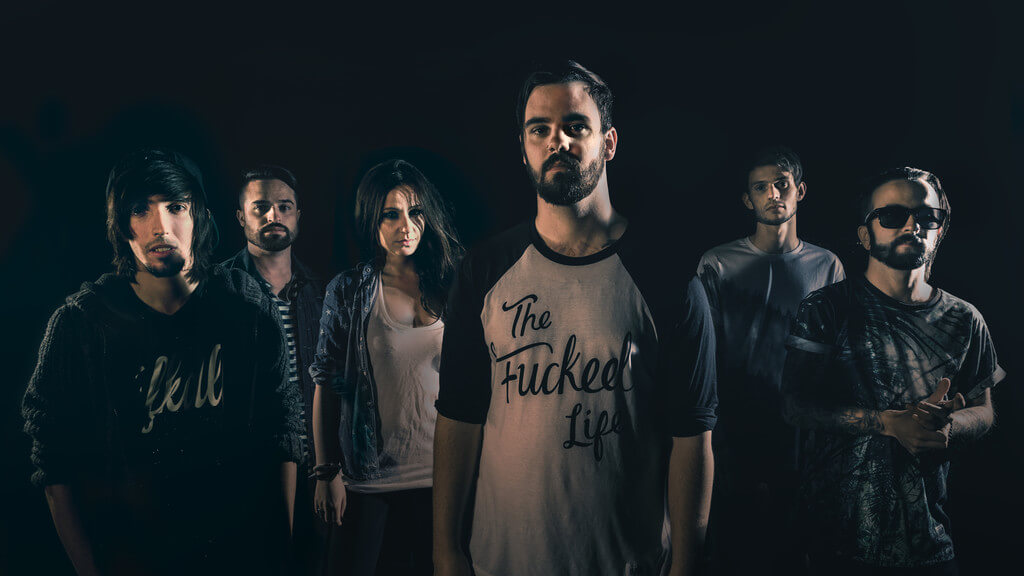 The Côte d'Azur, known in English as the French Riviera, is the coastline of the southeast corner of France. It has a Mediterranean climate with sunny, hot, dry summers and mild winters. But even in this beautiful part of the world where summer never seems to end, some kids get bored and grow a great passion for all kinds of movies and music. Lights, camera, action for SHOOT THE GIRL FIRST, a metal band not only from the southeast of France but the southwest of the USA as well. Composed of six musicians, the band evolves since 2010 through several influences like metal, electro, or post-hardcore, never really locked into a style, thanks to the differences between the voices of Alex and Crystal that provide a lot of possibilities.
The story of SHOOT THE GIRL FIRST, the name inspired by the movie 'Dobermann', begins in early 2010 on the initiative of guitarist Félix, who was quickly joined by his childhood friend Julie Crystal. They soon began to work together on a first demo and to perform in the local and national scene. In 2011, the band recorded its first EP entitled 'They Have Clocks, We Have Time' and the first self-produced video for 'Last Breath For A Capulet' was welcomed by fans from all over the world, with over a million views within weeks.
SHOOT THE GIRL FIRST got on the road for the first time in 2012 with several tours in Poland, the Czech Republic, Germany, Switzerland, Italy and France. During this time, the band had also begun working on its debut album and the release of a single, both launched on Artery Recordings in 2013. After touring all though Europe, playing more than a hundred shows and selling more than 30,000 songs sold on iTunes, 2014 held the departure of vocalist Nathan. But already a few months later, SHOOT THE GIRL FIRST were happy to welcome the new voice Alex, coming straight from Pittsburgh, USA. After another European run the band entered the studio to finish writing and recording its second album.
SHOOT THE GIRL FIRST's sophomore 'I Confess', produced by Florent Salfati at Homeless Records in Marseille, France, is not just a sequel of their past works but nevertheless it continues the story of a band that is worth to be told. The album is released April 1, 2016 worldwide on Redfield Records and manages to combine the musical output with the cinematic interests of the band. Like on most of their releases before, every song is related to a movie, for example '9th Symphony' to 'The Clockwork Orange', 'God´s Gift' to 'Shutter Island' and 'Call Me V' to 'V For Vendetta'. On 'I Confess' SHOOT THE GIRL FIRST refine the distinctive voices of the femalemale front-duo and the skilful combination of metal sounds with keyboards and electronic elements.