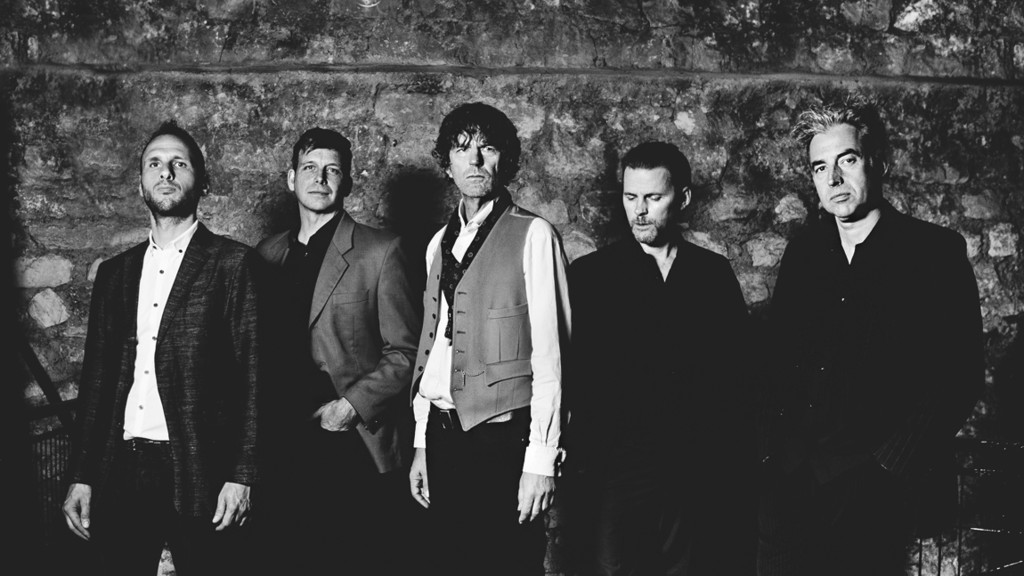 And Also The Trees – a Brief History There's a certain irony in the fact that a much-respected band with 10 studio albums and a quarter-century behind them need an introduction, but this is one of the many paradoxes that make And Also The Trees the unique & beguiling outfit that they are.
Established in 1979 in a small village tucked beneath the wild, rural charms of the historic Malvern Hills in Worcestershire & inspired by the ideology of a still-developing post-punk movement, AATT from their very beginnings were different. Unlike more urban contemporaries like PIL & Gang Of Four, AATT were influenced almost exclusively by the landscape & history of the rural environment that surrounded them, an influence that has remained throughout their entire existence to this day.
Their first, self-titled album, released in 1983 reflected those early, tentative post-punk roots, but it was with 1986's seminal Virus Meadow – an album of rich, pagan melancholy & disturbing laments – & the resulting European tours, that AATT truly found their own identity & seemingly an audience that were enraptured by the dramatic, understood the poetic nature of their work & The dense, chiming guitars & relentless rhythmic spirals perfectly complementing the rich, nursery rhyme-like lyrics of Simon Huw Jones & the almost pre-Raphaelite artwork.
Subsequent albums The Millpond Years (1987), Farewell To The Shade (1989)& Green Is The Sea (1991) continued in this rich, creative, & influential vein & seemingly elevated AATT to an almost mythical status in parts of Europe where they regularly played to audiences in their thousands & introduced them to transatlantic audiences for the first time via a highly successful US tour.
The release of 1993's The Klaxon, however, saw the beginning of a new chapter in the life of AATT, the esoteric, rural influences replaced by a 50's beat-group feel, still challenging & lyrical but somehow more urbane and, well, sexy. The twanging guitars, Morricone trumpets & growling organs punctuating a trilogy of releases (now endearingly referred to as the 'hard boiled crimmy' trilogy) including the critically acclaimed Angelfish (1996) & Silver Soul (1998).
From '98 to 2003 however saw AATT almost wilfully fade from view. No live shows or new releases gave rise to rumours of a split but in truth the band were biding their time, waiting for their muse to return with something akin to a more honest & contemporary styling. Further From The Truth, their 2003 album, is a testimony to the timeless quality of And Also The Trees & their music.
'(Listen for) The Rag and Bone Man' the new album takes us on a dreamlike journey through dark landscapes populated by stray nursery rhyme characters, mysterious women who peer into the psyche and pools of light that appear like reflections of their pastoral upbringing… touched by the likes of Scott Walker, Tom Waits, Calexico and Arthur Lee's 'Love'.
It was recorded on the estate of an 11th century manor house in rural Herefordshire and finished in a Victorian chapel in the East End of London – settings that exemplify the vividly spectral quality of this album.
A policy of using 'real' instruments, including a double bass, zither and piano has resulted in a rich, organic sound, coloured further by a guitar that brings to mind the trademark sound of their formative years.
In 2009, AATT released an acoustic album with new version of old and recent songs : "When the Rains come". The first extensive European tour for years followed, with dates in England, France, Germany, Italy, Switzerland, Greece and of course Belgium.The band is available for acoustic shows in some selected festivals…
New biography (Autumn tour 2016) :
Following the success of their highly acclaimed thirteenth studio album 'Born into the waves', influential cult British band 'And also the trees' will be touring throughout Europe this autumn.
Their reputation for live performances that are both intense and mesmerizing was formed in their formative years when they toured with The Cure and has grown throughout their 35 year history which has taken them around the world. Indeed the importance of the stage and travel is evident in their most recent work 'Born into the waves' where their trips to previously unvisited countries Ukraine, Lithuania, Romania and Japan were used as a  source of inspiration while the album evolved from four pieces composed by guitarist Justin Jones on the theme of love songs from around the world.
This new spirit of optimism and liberation is encompassed in the lyrics of vocalist Simon Huw Jones – "There are no traditional love songs here but love, as an emotion and a force is at the core of the album and threads through the songs – light and dark, energizing and destructive. The sense of travel and place was important as it gave perspective and helped us explore loves more diverse nature, especially that as an opposing power to hate".
'And also the trees' continue to evolve and break new creative ground. In 2015, Justin worked with Marc Almond playing guitar on a track from his album 'The dancing Marquis', drummer Paul Hill recently performed with the internationally known German multi-media artist John Bock at Frieze Art Fair in London and Simon collaborated with French composer Olivier Mellano, providing lead vocals on the '13 guitars' version of his 'Orchestre symphonique de Bretagne' commissioned epic. Simon is also nearing completion of the second 'November' album with Bernard Trontin of The Young Gods. 'Born into the waves' also features guest vocalist Adam Sherry from 'A Dead Forest Index', direct from their 'Savages' and Chelsea Wolfe support slots.
And also the trees' connection with The Cure was also recently revived when Robert Smith, a long time admirer, invited them as special guests for their three shows at London's Hammersmith Apollo. Musically however, to the uninitiated, they are more often likened to Nick Cave, Tindersticks and Scott Walker.